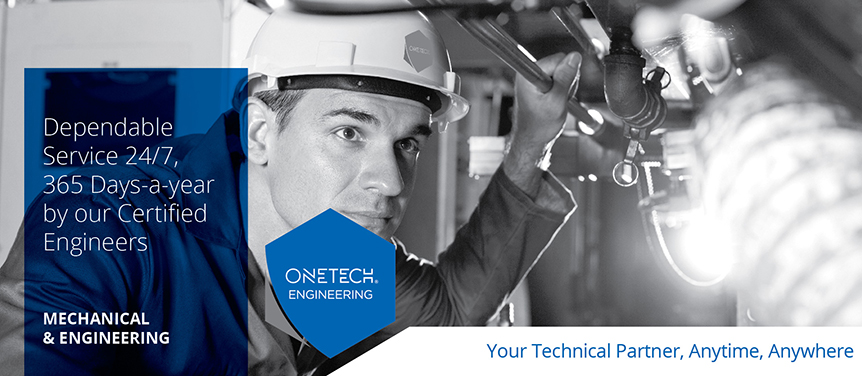 About us
The object of One Tech Engineering is clear and concise: to provide the highest quality engineering services to our customers, whilst serving as a source of spare parts.
Employing engineers with both a strong technical background and unbridled creativity, we are able to combine, master and advance these disciplines.
We make ourselves accessible 24 hours a day, 7 days a week, 365 days a year, in making a bold statement to our partners: One Tech Engineering is dedicated to serving you. Our strong point is that our specialists are constantly evolving by practicing & gaining impressive experience in shipyards.
Why Choose Us
Third-Party Liability Insurance
This insurance covers any damage caused to the shipowner/vessel in case of damage caused to any ship equipment during the repair works by our specialists. The guaranteed coverage amounts up to € 1,000,000 for each case.
Personal Medical & Life Insurance
This insurance is intended to cover an accident that may happen to our specialist on the ship during the repair work. Thereby this insurance protects the interests of the shipowner,  does not impose any responsibility on him and excludes any financial losses.  The guaranteed amount of insurance coverage is € 100,000 for each specialist.
Reporting System
We are careful about the reporting system and improving it constantly
Safety
Safety comes first! We constantly monitor the implementation of all precautions and improve ourselves on a regular basis.
Maintenance & Repair
A variety of planned or emergency repairs
Our specialists provide a variety of planned or emergency repairs during the voyage, anchorage & cargo operations all-over the world upon agreement with our customers.
The Engineers, Welders & Painters have all necessary travel documents (bio-passport, seaman's book, insurance, medical examination certificate etc.) which allow us to arrive on ships as soon as possible in any port of the world. Some of our specialists have US visa, thereby we are able to perform work on ships working in the Caribbean.
Service Engineers, Technicians
Main & Auxiliary Engines (various types & sizes)
Turbocharges
Repairs, Maintenance and Servicing – Centrifugal, Screw, Gear, Piston pumps, Air Compressors
Purifiers etc.
Engine/ Deck Machinery (winches, lifting equipment, etc.) around the world to assist our customers to avoid any delays, off-hire, reputational and financial losses accordingly.
Qualified, Certified & Experienced Riding Squads
As extra crew for on-site repair or routine maintenance around the world
Certified Welders, Painters, Helpers
Certified Welders
Vessel hull steelworks
Pipes replacement/repairs  (steel and Inox pipes)
Boilers
IGG
Manifolds
Deck repairs
Ballast/Cargo tanks Special repair teams of welders (welders are certified by BV, GL, LR and RMRS)  perform repairs during a voyage or dry-dock.
Painters, Helpers
Ballast tanks maintenance
Coating cosmetic up-grade
Cleaners/Helpers (tanks, receivers, etc.)
Incinerator Refractory repair
Hot well cleaning & painting
Incinerator settling & service tank cleaning
Engine room sea chest filters cleaning
Sewage treatment plant cleaning & painting
ME crankcase,  scavenge air receiver & under piston spaces cleaning
BWTS & UTM
BWTS, Electric Engineers
In accordance with the Ballast Water Treatment requirements, One Tech Engineering has a department which helps shipowners and ship management companies to solve their issues with ballast waters management on a one-stop basis.
One Tech Engineering engineers are trained specialists who have obtained all the necessary approvals and certificates, have become a service partner of leading manufacturers of BWT systems, which is approved by IMO as well as USCG.
Ultrasonic Thickness Measurement (UTM)
Our engineers are trained in works such as Ultrasonic Thickness Measurement of the hull,  the hull structures and steel structures of all ships systems and machinery while adhering  to the strictest standards and safety regulations of fall protection.